Defining Hope ()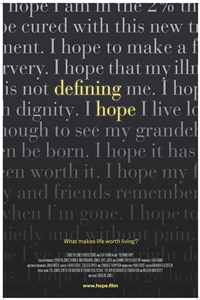 Synopsis
This powerful documentary explores what makes life worth living and
what to do for ourselves and our loved ones as we get closer to the
end of life. It is about optimism and works to define what 'quality of
life' really means. Through the stories of patients, families, nurses,
and healthcare professionals, Defining Hope brings the conversation
around quality end-of-life care to the forefront of our minds.
Details
Documentary
November 1st, 2017
Cast
Diane Ryan
Barbara Stephenson
Carmen Hernandez
Gilbert Oakley
Berthold & Charlotte Cohen
Director
Carolyn Jones
Writer